Blow Up 25 at the 100 Club, London
Published on 25th September 2019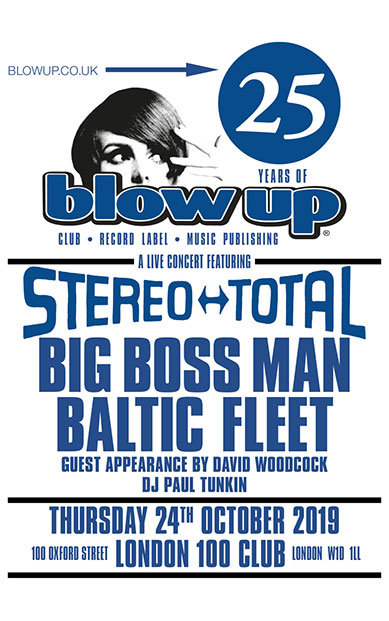 Blow Up Records celebrates 25 years at the 100 Club London. Thursday 24th October. Featuring live guests Stereo Total + Big Boss Man + Baltic Fleet + DJ Paul Tunkin.
STEREO TOTAL
This will be the first UK show in over four years and is an exclusive UK show for the Berlin based band. Blow Up Records released the compilation album Yéyé Existentialiste in association with the band in 2015. They have been live guests at various Blow Up club and live events since the 1990's and are good friends of the label, we are very happy that they can join us for the night.
"New wave art-pop pioneers – the Sonic Youth of the electropunk world"

TIME OUT
"Scuzzy, mischievous, exhilarating avant-garde pop, spliced with punk and garage and impeccably dressed in thrift-store chic"

THE GUARDIAN
BIG BOSS MAN
Big Boss Man's debut single on Blow Up Records Sea Groove has just passed the 3 million streams on Spotify, have a long association with Blow Up, the label having released all their four albums to date. Best described as a hip Hammond hybrid of 60'S R'N'B, Latin, Soul, Bongo-Fuzz and Funk. Really one of the UK's hottest live acts. They are not to be missed live. What was said about the Big Boss Man album Last Man On Earth..
SHINDIG!

BLUES & SOUL
"I've been a big fan of Big Boss Man for many years. Big Boss Man. Aardvark. Double Groovy!"

CRAIG CHARLES – BBC 6 MUSIC FUNK & SOUL SHOW
"A great track" (Theme from Last Man)

HUEY MORGAN, BBC RADIO 2
"The whole album's absolutely brilliant"

CERYS MATTHEWS, BBC 6 MUSIC
"Classic Psych Funk"

NEMONE, BBC 6 MUSIC
BALTIC FLEET
In what will be the first live appearance in London in over five years and only the second live show since the release of the highly acclaimed third album 'The Dear One' released in 2016 on Blow Up Records. Baltic Fleet who have recorded three albums to date for Blow Up – Baltic Fleet, Towers, The Dear One. Baltic Fleet is the moniker of multi-instrumentalist and DIY producer Paul Fleming. Although initially bourne from a studio project Paul brings together long-time friends and like-minded musicians who have performed and collaborated on these records for very occasional rare live performances for which the Blow Up 25 is one. What was said of The Dear One on its release…
"A soundtrack for a journey into the cosmos"

THE TIMES
8/10

VIVE LE ROCK
"A synth-centred delight …this album is full of swooning glory"

THE MIRROR
"A definite contender for Album of the Year"

LOUDER THAN WAR
"Excellent"

RADCLIFFE & MACONIE
"Excellent record"

GIDEON COE
"It's quite a piece of work is this album"

STEVE LAMACQ – BBC RADIO 6 MUSIC
"Star-bound kosmiche"

ELECTRONIC SOUND
ROUGH TRADE SHOPS 'ALBUM OF THE WEEK'
BBC 6 MUSIC 'ALBUM OF THE DAY'
BBC 6 MUSIC 'FEATURED ALBUM OF THE WEEK', STEVE LAMACQ SHOW
PAUL TUNKIN
Paul founded the Blow Up club in1993 and launched Blow Up Records in 1994 with the release of the mail order 7" single by his own band The Weekenders with the record All Grown Up. He established Blow Up Songs in 1996 to deal with the labels music publishing. Paul was also the music director of the award winning live music and club venue the Metro Club, Oxford Street, London. He will DJ and host the event.
Blow Up 25 "That's a gig I'd like to go to"

Craig Charles (House Party) BBC Radio 2.(27/07/2019)